Nearly everything that a traditional record label does can be outsourced to companies that specialize and are more effective. That applies to funding your album, too.
The funding that a traditional label gives you is subject to some of the worst deal terms ever. Typically, when one dollar of revenue comes in from your band's products, a traditional label will take their majority cut...and only apply your percentage--around 9% after deductions--to the amount you owe them. We think that's crap, and strongly urge you to consider BETTER ways to fund your own album release.
Here's a novel concept: EARN the money you need. Will it take hard work and dedication? Absolutely. But it's also relative; you're not toiling for 12 hours in the sun-baked watermelon fields in Central America...you're a musician. Not a bad job.
Play more shows. Talk to more fans. Sell more music. Not only do you generate money...but you're raising the awareness of your band and music simultaneously. That's the point!
The only way you CAN'T earn money is if you do nothing and expect that some label will hand you wads of cash. Well guess what? You'll have to work EVEN HARDER if you get signed. Start now and reap the benefits.
---
PerkStreet is a newer version of banks with low overhead like ING Direct or Ally. We think all three of these companies are a great way to save money and build your empire. PerkStreet is just a bit better... offering 2% cash back on free checking debit card purchases... and FREE MUSIC and FREE COFFEE. Like it's built for musicians.
---
RECOMMENDED READING
Getting ahead financially isn't as much about more revenue as it is what you do with the revenue when it comes in.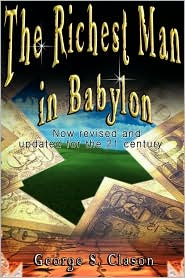 This highly-recommended, classic book is a wealth management lesson masquerading as biblical-era stories. Belief in better finances is the only faith required.
Also check out:
Crowdfunding (lots of individual people giving you tiny donations) is a wonderful way to fund your album. We recommend these two... and a DIY option with your own platform.
---
Kickstarter is the largest funding platform for creative projects in the world. Every week, tens of thousands of amazing people pledge millions of dollars to projects from the worlds of music, film, art, technology, design, food, publishing and other creative fields. This is not about investment or lending. Project creators keep 100% ownership and control over their work. Instead, they offer products and experiences that are unique to each project. Instead of getting large loans from one or a few sources...get smaller loans from many supporters. Simply awesome.
---
Rockethub is essentially the same type of crowdfunding platform as Kickstarter...but they take 2% less in fees. It's a bad idea to try to fund your next album on both platforms simultaneously; you divide your funders and risk not funding either. Make sure to do your research on both and choose the one right for you.
---
RAISE MORE ON YOUR OWN
Why not make your own donation platform with VOLUSION? It's easy to set-up and feature-rich.
Create a few different donation items (like $50 = free CD + shirt; $100 = album liner credit) and tell your fans! You'll get a larger percentage of the donated funds... and sooner. And most importantly, no matter how much money you generate, it's yours. No minimum threshold for funding qualification.
Before you consider borrowing money from ANY third-party... make sure you and your bandmates have decided WHO is the individual with the best credit (CHECK YOUR SCORE for FREE), and WHO is on the hook for the loan. Usually... it's the whole band. Making it official by creating your FREE PARTNERSHIP AGREEMENT is of utmost importance. And lastly, KEEP TRACK OF YOUR MONEY. If you're adverse to accounting, we strongly recommend POCKETSMITH. If you'd like more traditional accounting software, then go with QUICKBOOKS ONLINE.
---
If you plan to hire ArtiSans Label to release your album, you'll have the opportunity to apply for instant funding through Bill Me Later. Provided that you have a minimum credit score of around 720-ish (CHECK YOURS), you may be able to purchase all your album release products and services now... and pay them off later... AFTER you've sold 'em.
---
Credit card interest rates are awful. But if you're at the point where your options are very limited and you're considering a credit card...go for the DISCOVER CARD.
- 5% cash back offer
- $0 annual fee
- $50 cash-back bonus offer.
If you're good about selling your merch, you should be able to pay off the credit card with minimal interest impact... and build your credit.
---
Let's be clear about this: "pay day" loans are NEVER a good deal, and should only be entertained as a last resort. We're not recommending them. However, this may be your only borrowing option if you have a bad credit score. The only reason we listed 100 DAY LOANS is that they're a far better, safer option than those shady, neon-lit street corner joints.